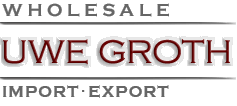 Fine Silver Jewelry Wholesale
in Antique & Classic Styles

Uwe Groth
Karl-von-Hahn-Str. 125
72250 Freudenstadt · Germany
http://www.silver-groth.com


Huge stock - frequently updated with new arrivals!

Over 1000 different designs always available on a rotating basis.

Medium price range for silver jewelry with prong set marcasites between
32 € and 90 € plus.
(see images on website)

Medium price range
with glued marcasites between
9 € and 28 €. (no images)

Classic Style / Vintage Style:
Timeless jewelry from classical antiquity
to modern age.

Workmanship & Components

Fine Jewelry in 925 Sterling Silver,
of superior quality, designed and manufactured in Classic & Vintage Style. Set with gemstones, semi-precious stones, natural pearls, coral and marcasite.

Marcasite: 925 Sterling Silver Jewelry in Classic & Vintage Style is set with "Swiss Marcasite", fixed with prongs. (No Glue)

Natural Pearls: Carefully selected, perfectly round, cultured pearls/seedpearls Ø 1.3-2mm. Each pearl is secured with prongs, half-way drilled, pinned and additional fixed with adhesive.

Gemstones/Semi-Precious Stones:
All Jewelry is set with real, natural gemstones (ruby, emerald, sapphire, tourmaline, aquamarine, coral, opal) and real, natural semi-precious stones (amethyst, citrin, garnet, turquoise, peridot, onyx)

Our stock consists in part of unique objects or pieces only produced in small quantities. Therefore, no printed catalogue is available, as our merchandise is subject to continual updating.

Our sale is limited to traders only, excl. of VAT (sales tax).
According to agreement, sale or examination of the merchandise may also take place at your premises, within the entire EU.